Holiday Weddings in Tampa Florida
It's that time of year!! Families and friends will be gathering for Thanksgiving this week and over the upcoming weeks for the holidays. Since families and friends are going to be together it can also be a great time for holiday  weddings in Tampa Florida. I was recently contacted by a couple from Ohio that will be visiting their parents in Florida this week and wanted to know if I could perform a wedding for them on Reddington Shores Beach. They also asked if George Sr. could take photographs. I let them know we are available for their Reddington Shores Beach wedding and would love to work with them. They want a simple ceremony on the beach.
We have other weddings booked over the Thanksgiving Holiday weekend for similar reasons. One couple has family visiting with them over the holiday weekend and the other couple will be vacationing in Florida for the holidays.  Whatever the reason may be it is can be a great time for holiday weddings in Tampa Florida. And, it's actually pretty easy to get married in Florida. If you're from out of state you can be married on the same day that you get your marriage license. Florida residents have to wait three days. We can meet you at your home, park, at the beach, or wherever your gathering may be and perform a wedding ceremony for you.
This weekend family and friends were together for Maribel and Jose's wedding in Seminole, Florida. The wedding was at Maribel's parents home in Seminole. The ceremony was in backyard by the pool. An arch was set up with chairs for guest and I officiated a sweet simple ceremony. They were looking forward to a fun time celebrating at their home with all the guest.  Maribel and Jose have been together for over five years and it was time to be married. They have a lot of fun together and thought this was an opportune time for a wedding. Although this wasn't actually on the holiday guest were arriving for the holiday week.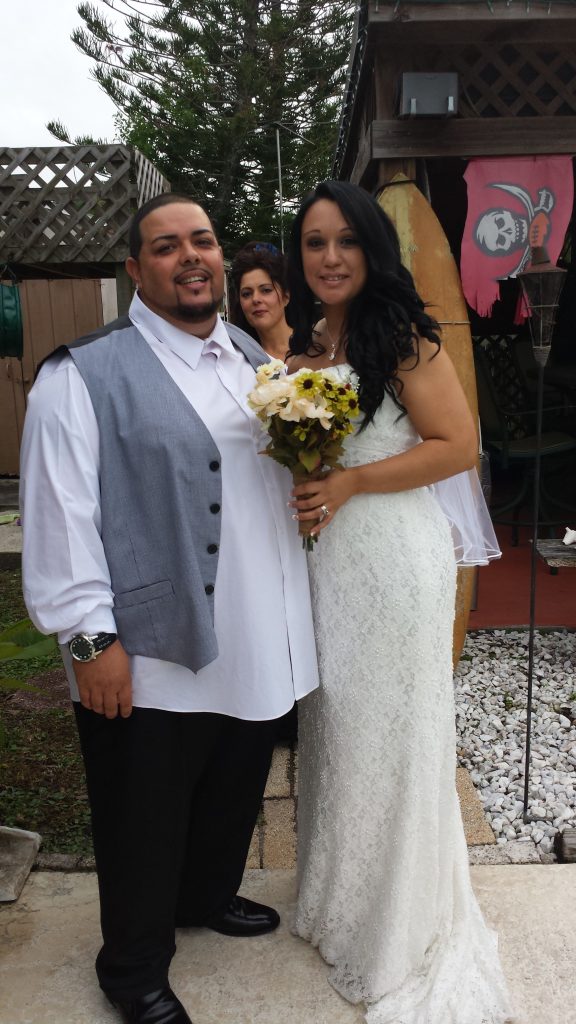 Like Maribel and Jose, having a wedding with select family and friends over the holidays can be a lot fun. Not only are your friends and family gathers but a lot of venues are decorated for the holidays so you don't have to go as crazy with the wedding décor! If you are considering a wedding over holiday season get in touch with us because we are available for last minute ceremonies or can help you plan and organized your special day!
News