Click here to read WeddingWire.com reviews for Tallahassee Officiants
Click here to read WeddingWire.com reviews for our Tampa Bay Officiants
We truly care about all the couples we work with and work hard to ensure your wedding ceremony is amazing! It makes us so happy to receive positive reviews and testimonials. Here are a few testimonials from couples whose weddings we've performed.
---
Charmaine,  Sam and I want to thank you so very much for your officiant service at our recent wedding! You performed an absolutely beautiful wedding ceremony, and it was extremely well received by our wedding guests as well as those watching our "Live Stream" around the country! Everyone we have spoken to stated how well you projected our written ceremony, and the true warmth and feeling you gave to our words.  We personally thank you for pausing every now and then and recognizing that we "needed a minute" to compose our emotion with one another! That was just so beautiful, and EVERYONE noticed that.  I am so glad that you were an integral part of our wedding, and we cannot thank you enough!! Sam and John, wedding ceremony at Pass-A-Grille Beach in St. Petersburg Florida
---
Meeting with Amanda was like speaking with a friend you haven't seen in a long time.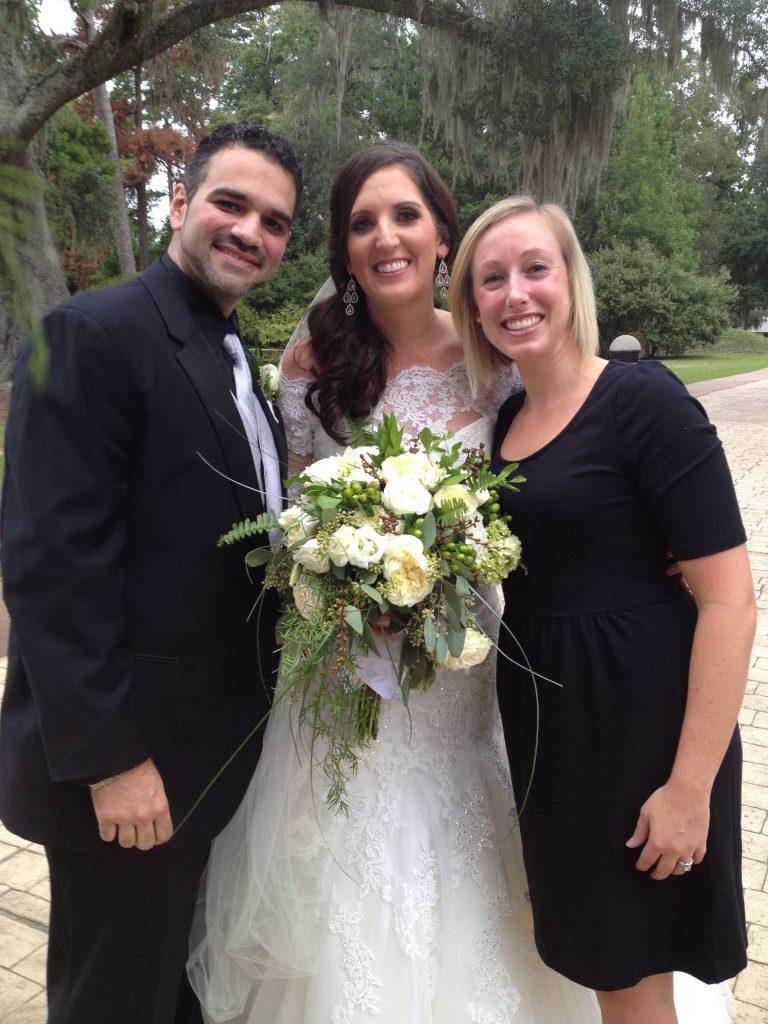 She was wonderful. She provided lots of input while still allowing for development of a perfect and personalized ceremony. Having her at the Rehearsal was very helpful as Amanda and our planner were able to work out all the "kinks" so that everything went smooth…and it did. We miss you already. Thank you for everything and will always remember you on each anniversary. Christine and Marcelo, wedding ceremony at Mission San Luis in Tallahassee Florida
---
Amanda officiated our wedding and did such a wonderful job. We enjoyed being able to customize our own ceremony, even though she provided us with a good framework to start from. She was so easy to work with and very quick to respond to all our emails, calls, and requests. I would definitely recommend this service to other brides.~ Ryan and Kendall, wedding ceremony at Kleman Plaza in downtown Tallahassee Florida
---
Charmaine was great to work with! I spoke with her off and on for a year and she did an amazing job. She customized everything to the way we liked and the ceremony went perfectly. She was so nice to everyone and I would recommend her services to anyone!~ Karen and Matt, wedding ceremony in Safety Harbor Florida
---
She's awesome and really helps with other stuff such as getting a photographer, flowers, and newspaper articles. She's the best to marry you!!~ Kimberly and Tomeshia- wedding ceremony at Cascade Park in Tallahassee Florida
---
George Sr. performed the ceremony and did a wonderful job.

The ceremony was on the beach and we had a sand ceremony which he was familiar with and went perfectly. George was dressed very professional and helped make the day perfect. He even provided a special certificate for my daughter and her husband. I would definitely recommend their services. -Tracy (Bride's Mother), Justin and Amber, wedding ceremony on Honeymoon Island in Dunedin Florida 
---
George Jr. we wanted to thank you again for everything at our wedding, we really had a good time.~ Ely and Chely Rojas-Toro, wedding ceremony in Sarasota Florida
---
My daughter and son in law wanted to elope to a beach out of the country. After a month of difficulty with their chosen venue, they decided less than two weeks from their wedding date to go to St. Petersburg. Not wanting to deal with a resort wedding planner again, I searched online for someone to perform the ceremony. Thank goodness Charmaine's website came up right away! Her services were exactly what we were looking for: simple, affordable, flexible. Charmaine's husband, was available to take pictures for a very reasonable price. What I did not expect, was the kindness and over the top willingness to make this experience perfect. As the date approached and we were finalizing plans, Charmaine could tell I was feeling a little sad that this was an elopement and we would not be present to see our daughter get married, so she offered to have her husband Skype the event, even though they had never done that before. It was a wonderful way to be there. The only downside is that I did not get to meet this caring, wonderful couple in person!~ Omar and Lia, wedding ceremony in St. Petersburg Florida
---
Amanda officiated our wedding recently at the Southwood house and was absolutely amazing. She has such a great/fun personality and makes you feel at ease. She was so helpful through the whole process of choosing our vows, she made suggestions, answered all of our questions promptly, and made sure everything was exactly as we wanted. She was a true pleasure to work with and I could not have asked for a better officiant!!!! Thanks Amanda!- Lauren and Zach, wedding ceremony at The Southwood House in Tallahassee Florida
---
George Sr. and George Jr. were great! We had a blast taking pics and we were so happy on the flexibility and friendliness of both. It was a day to remember and we are very happy how our wedding turned out. Thanks for making our wedding day perfect. – Shena and Denis, wedding ceremony at Honeymoon Island in Dunedin Florida 
---
Amanda was wonderful in helping me plan my surprise vow renewal ceremony.
She is very easy to communicate with and will respond quickly to emails. She is very sweet and sincere. I would recommend her to anyone!- Jessica planned a surprise vow renewal ceremony for her husband Billy on St George Island Florida 
---
Charmaine and her husband were extremely professional and kind. We are elated that we found them as a duo!~ Kathryn and Will, wedding ceremony on Honeymoon Island in Dunedin Florida
---
Thank you so much for your great service. A Notary On The Go is an excellent choice for your notary or Justice of the peace needs. They made an appointment with me at the last minute and everything went perfect. My wife and I are extremely pleased with your perfect service. Thank you for making our special day go smoothly. ~ Brian and Sheryl, wedding ceremony in Hudson Florida
---
Amanda did a fantastic job with our wedding ceremony. She was extremely flexible
and helpful. She helped make our wedding day the most special of our lives and one we will remember forever. Thanks Amanda!~ Lori and Joel, wedding ceremony at Maclay Gardens in Tallahassee Florida
---
We wanted a simple, low-key ceremony in a beautiful setting, and Amanda worked with us to create exactly that. She provided sample vows and ceremony scripts to inspire what we ended up writing, which really helped. Having a photographer included saved us a step and a search (we're from out of state). Amanda and Bill were both really fun to hang out with, and we were kind of sad when they eventually had to head off to their next appointment.- Stacy and Alicia, wedding ceremony at St. George Island Florida
---
Ms. Charmaine rocks! I called her 2 days prior to my friends surprise renewal ceremony and she was able
to put something together at the drop of a hat!! They were very happy and surprised at the amount of time and creativity, Ms. Charmaine put into it. Their 10 year anniversary will go down in the history books! Thanks again, Ms. Charmaine for your outstanding service!! Milton and Kenita McLaughlin, anniversary vow renewal ceremony at Sand Key Park in Clearwater Florida
---
Working with Amanda was an absolute joy. She helped us plan our ceremony and made sure it went exactly how we had planned. We could not be more pleased with Amanda and will recommend her to anyone and everyone. She is awesome!~ Alison and Jason, wedding ceremony at Shiloh Farm in Tallahassee Florida
---
Amanda officiated at our 10/29/11 wedding. She was very professional and enthusiastic. She worked with us to select the vows that had the most meaning for us, and also helped us create a sand ceremony. We would highly recommend Amanda to anyone looking for an officiant!~ April and Erin, wedding ceremony in Steinhatchee Florida
---
Amanda was great to work with! She helped us create a beautiful, meaningful ceremony that really worked for us. She was very patient at our rehearsal when most of the bridal party got lost on their way and we had two fussy flower girls! Amanda was wonderful and I would definitely recommend her!~ Rebecca and Corey, wedding ceremony at Lichgate on High Rd in Tallahassee Florida
---
George Jr. – Thanks again for being there for us!~ Tom and Fredi , wedding ceremony in Dade City Florida
---
Charmaine was truly wonderful to work with. She was courteous and professional, and was very helpful in providing different templates that we used to create our vows. She was on time and very patient on our special day. We did not feel rushed or stressed. Our private beach ceremony could not have gone better – thanks to Charmaine and A Beautiful Wedding in Florida! 
Maegan and Robert, wedding ceremony on St. Petersburg Beach Florida