Wedding at Phillippe Park in Safety Harbor
Saturday, June 28th , Meghan & Joseph were married at Phillippe Park in Safety Harbor. It was a beautiful afternoon for a Phillippe Park Safety Harbor wedding. Megan & Chris met three years ago where they worked together. Megan had contacted me and had a number of questions. She didn't want anything religious or as she said "too cheesy," and I was glad to help her make that happen. She was a delightful bride to correspond with and help with her wedding plans. After answering all of her questions, I was able to create a Phillippe Park Safety Harbor wedding ceremony package that was perfect for her wedding and budget. The package included a pipe and drape fabric post, white ceremony chairs, isle runner, Photos by George Sr., and ceremony officiant.
The ceremony was under the beautiful draping oak tree overlooking the water at shelter 1 in Phillippe Park. As part of her ceremony package, pipe & drape fabric post and white chairs were set up by my friends at Gabro Event Services.
Megan had three bridesmaids. They wore knee length teal dresses and carried yellow daisy bouquets. Chris had three groomsmen who wore purple shirts had peach colored boutonnieres.
It was a very tearful ceremony as Meghan & Joseph read their vows to each other. Meghan asked to read her vows first. She tearfully spoke of how happy that she was that her Mother got to meet Joey (that's what she calls him) before she passed away last year. She expressed that although she was no longer present with them physically today that she was with them in spirit on this beautiful day. Megan said she see's her & Joey together when they are old sitting on the rocking chairs at Cracker Barrel playing checkers.
Joey spoke of his love for Megan remembering their first kiss when playing truth or dare & walking hand & hand on a date. They were both so emotional, I asked that they give each other a hug before continuing on with the ceremony.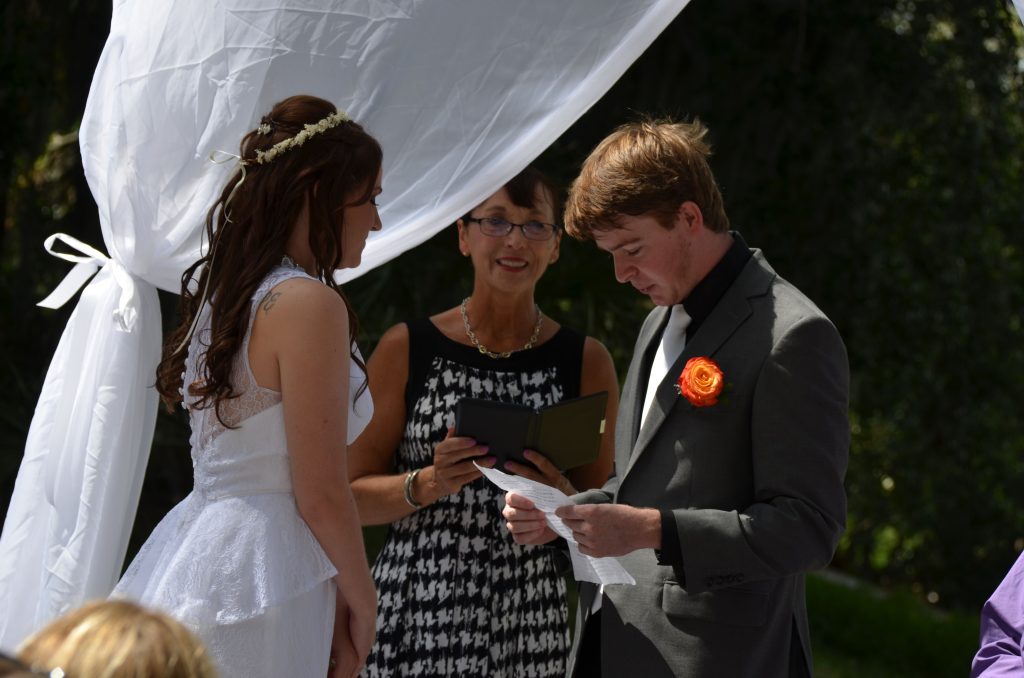 Megan & Joey have fun together. He is her Superman. Joseph had a Superman t-shirt on under his dress shirt. Clark Kent (AKA Joey) opened his shirt and put his glasses on after the ceremony.
The groomsmen had Batman, Spider Man & Darth Vader shirts on under their shirts. Photos by George Sr captured these moments, as well as the photographs before after & during ceremony.
Megan & Joseph were having their reception at Bon Appetit in Dunedin. When they were leaving they thanked George Sr. and I for everything. She said everything was just wonderful and how much they appreciated all we did to help make their wedding beautiful.
News