Sweating for the wedding! As Clearwater/Tampa/Tallahassee wedding officiants, we've heard ALL the phrases. I love for the brides I work with to look wonderful in their wedding dresses, but urge you not to go overboard and be unhealthy.
I'm really into fitness and health so the idea of having a workout plan is fun for me. If your wedding is what it takes to get you motivated to move then so be it. You don't have to join a fancy gym or hire a personal trainer to get in shape for your wedding.  There's plenty of inexpensive and free ways to get you moving- like walking, running, biking. I did a quick Pinterest search of wedding workout plans and a TON of at home options popped up!!!
Check out this easy to follow 6-week wedding workout plan: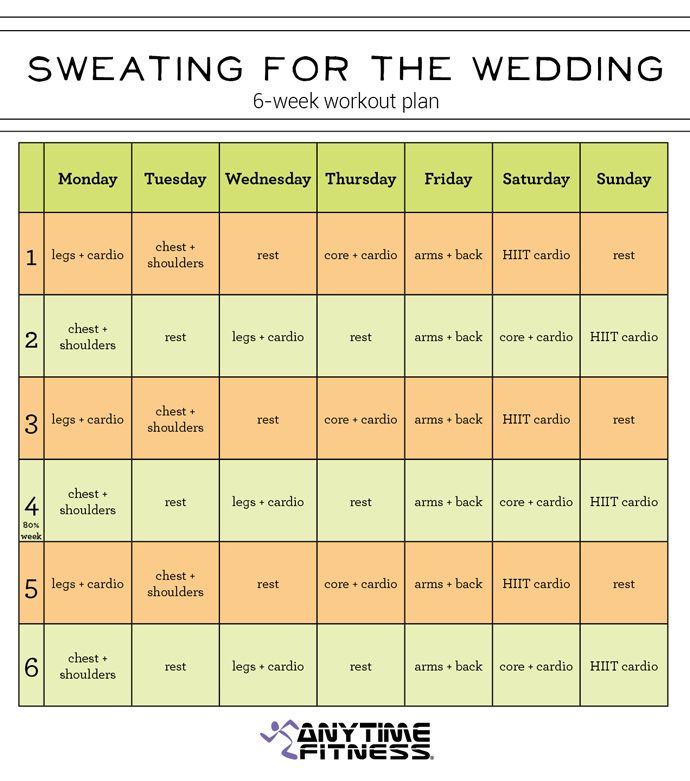 If you're having a hard time getting into your wedding workout routine try asking a friend to join you. Working out with a friend is always more enjoyable and it'll help keep you accountable.
You could also partner up with your fiance and get in shape for the wedding together. It'd be a fun activity while working towards the same goal…and this way you both look great at the wedding 🙂
Working out while planning your wedding is an AWESOME stress reliever! Planning a wedding is stressful, I know (I did it only 1 year ago!).  You're going to be bombarded with ideas, questions, wants, disappoints, and decisions so it's important to take time for YOU– and that could be in the form of working out.
Whatever you decide to do to get your body ready for your wedding is fine. It's your body and your wedding so do what makes YOU happy. And again please do not go over board worrying about your body image on your wedding day. Remember your fiance and friends love you for who you are and you don't need to change anything.