I LOVE being a wedding officiant. I get to see SOO many beautiful weddings, meet the most amazing couples, and help people on the happiest day of their lives….WIN WIN WIN! Last week, I got to do something SUPER awesome! I helped Jessica organize, plan, and officiate a St. George Island SURPRISE vow renewal ceremony.
Jessica and her husband, Billy, were visiting St. George Island, Florida to celebrate their 10 year wedding anniversary. They had talked about renewing their vows in the future but never made a final decision or planned details. So Jessica thought for their 10 year anniversary while on beautiful St. George Island it would be the perfect time to renew their vows. So she hired me to make it all happened as a surprise to Billy! After about 80 emails, we had come up with a surprise plan that we both loved!
On October 9, 2014 I drove to St. George Island. When I arrived, I sent Jessica a text message and she met me in the bathroom near the lighthouse (her and Billy were walking around taking pictures around the lighthouse). Jessica gave me her video camera so I could capture his reaction. I told her that I'd text her when I was setup on the beach and ready for them. I had wrapped a BIG box with a bow on top. Inside the box were three balloons- two white ones (one for Billy and one for Jessica) that would fly away once the box was opened and one red heart that would pop up once the box was opened.  The outside of the box had a sign that read, "Bill, Open the Box".  I walked out to the beach and found a spot for the box. Then I walked about 100 yards away to pretend that I was talking pictures of the beach. I texted Jessica that I was ready for them.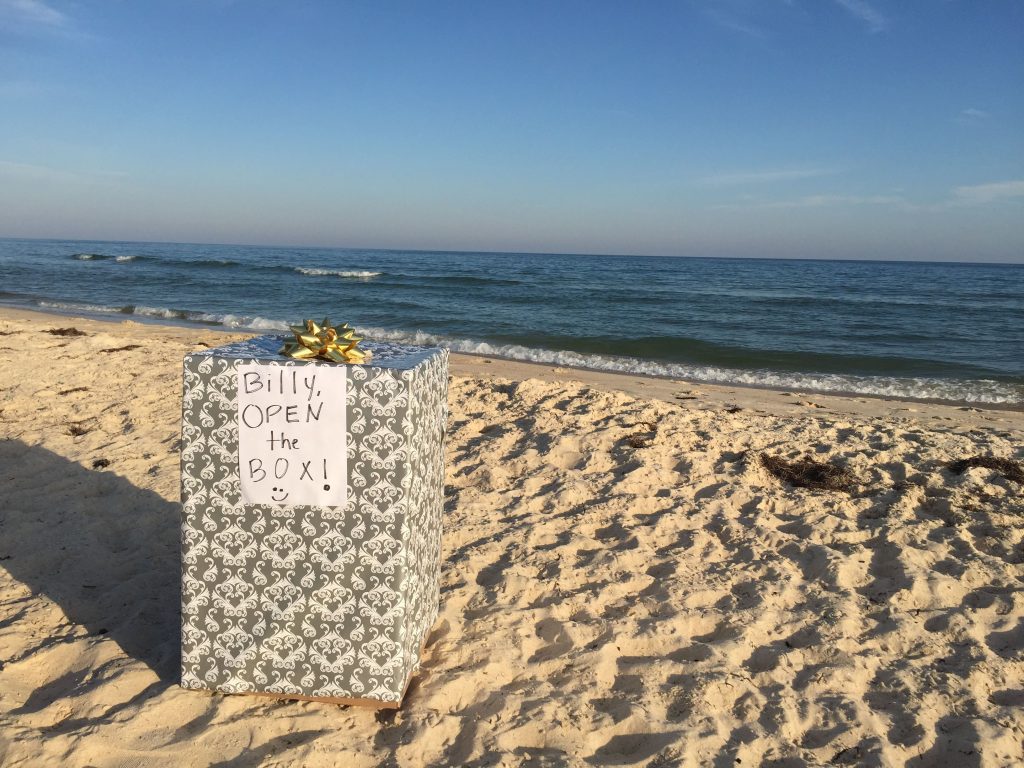 She got Billy to go for a nice walk along the beach (secretly leading him to the box). I saw them coming towards the box and got so excited! Billy saw the box and Jessica said "Look it says for you to open it!" and he said "What did you do? Haha!" Confused and stunned he walked over to the box and opened it. The balloons popped up and the red heart read, "Welcome to your Vow Renewal".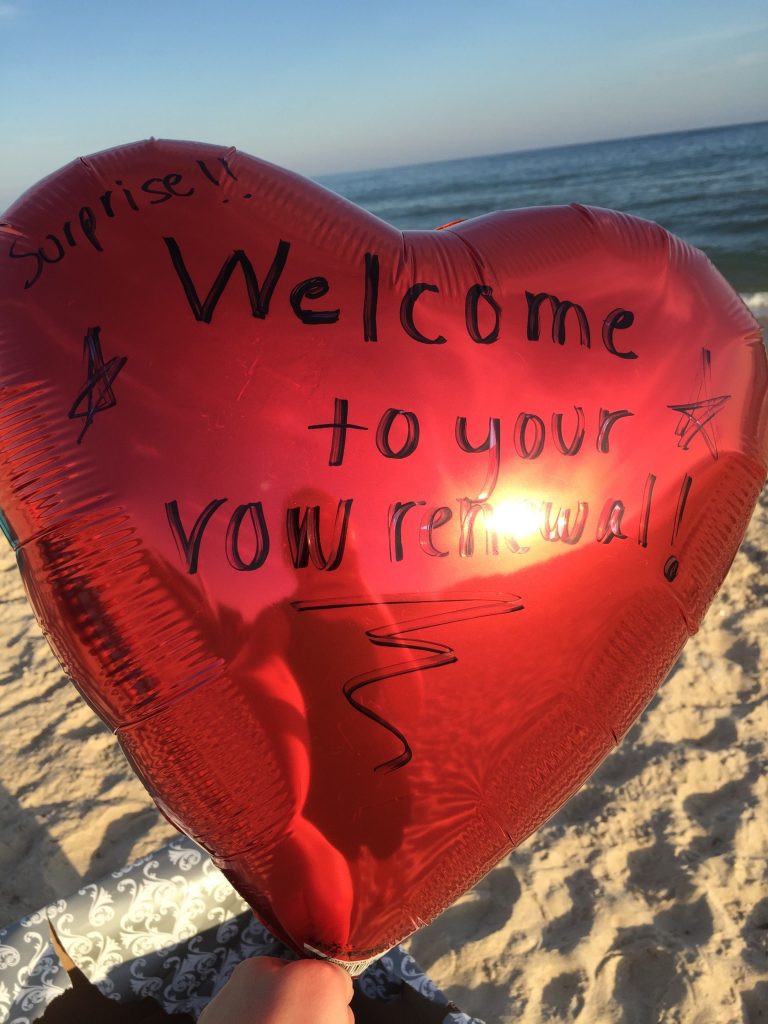 I then went over and introduced myself and welcomed him to his St. George Island Surprise Vow Renewal Ceremony. He was so shocked and loved it! We proceeded to have a beautiful ceremony on the beach. A kind beach goer even videoed the ceremony for them. After the ceremony I presented them with a commemorative certificate and took some pictures of them together on the beach.
It was a beautiful day for a St. George Island Surprise Vow renewal Ceremony. Billy and Jessica are a wonderful couple and I feel so privilege to have been a part of their special celebration. I love helping couples create the ceremony of their dreams…and if that includes a SURPRISE I'm totally in and would love to help you too!