Last Saturday night, I officiated Nichole and Rick's Clearwater Beach wedding. The wedding and reception was held at the Clearwater Recreational Center. They had a Hawaiian theme for the wedding. Guest were greeted by Hawaiian's in costume giving everyone a flowered lei to wear and a shell that would be tossed in the ocean at the end of the ceremony.
The wedding was outside on the lawn facing the gulf. They had over 100 guests in attendance. Weddings & Events by Suda coordinated the day of events. Suda had everyone lined up, and was very timely and organized.
Bridesmaids wore mint green dresses all knee length except for maid of honor who was wearing a gown. Groomsmen were comfortably dressed beige slacks, vest and ties. Nichole looked so beautiful. She wore a strapless off the shoulders white dress with a pretty pearl and jewel necklace that just accented her neckline and bead work on front of her dress. They all got their dresses at David's Bridal.  Nichole had a Hawaiian version of here comes the bride played as she walked down the aisle. She was given away by her parents. At the end of the ceremony the guest were asked to go to the water's edge for the shell toss. Guest were asked to make a blessing and a wish for the happy couple. Then at count of three toss the shells into the ocean.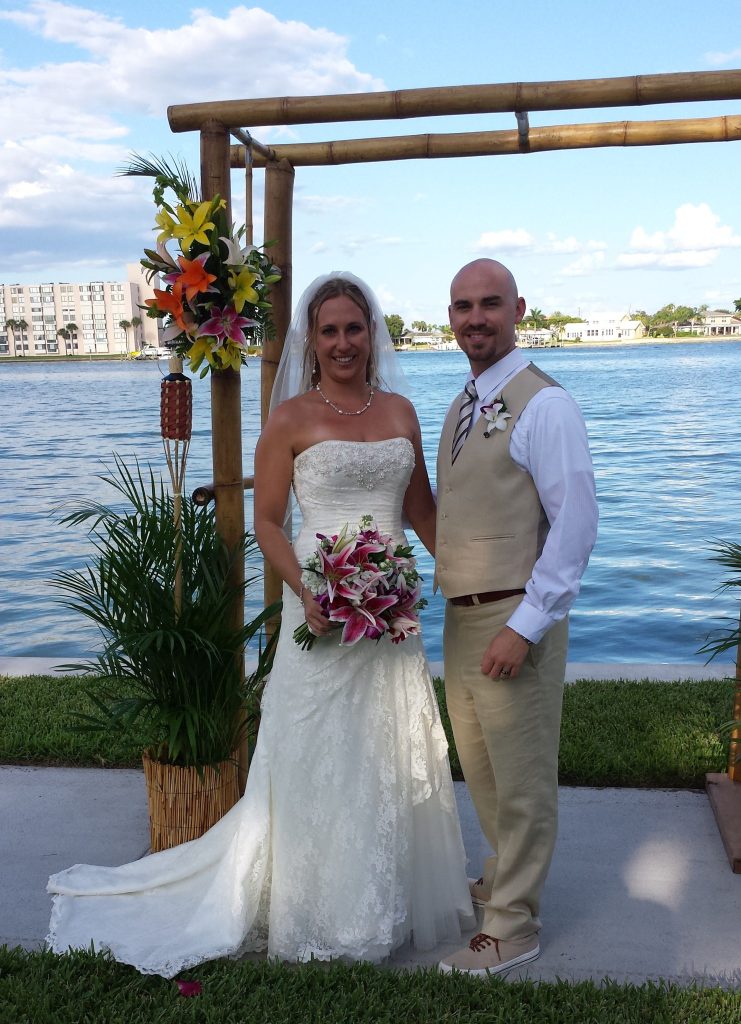 The reception was inside following the ceremony. Delectable's Catering did the catering and  Chantilly's cakes made a beautiful cake.
Rick and Nicole were very pleased and happy with everything. They weren't going on a honeymoon just yet as they had out of town guest visiting. Nichole and Rick were a great couple,  I enjoyed performing ceremony and being a part of their special Clearwater Beach wedding.