It was a gorgeous day on Sunday morning for Marissa & Mike's St. Pete Beach wedding. After a wash out day on Friday & rain off-and-on Saturday, we were all so happy to see a beautiful sunny day on Sunday.  The wedding was at Grand Plaza Resort in St Pete Beach.
The ceremony was on the white sandy beach between two palm trees. They had white folding chairs for guests and had a beautifully decorated white arch with mango colored flowers. Marissa colors were mango and white. Bridesmaids wore knee length mango dresses carried bouquets with white and mango colored flowers. Marissa even had her nail tips painted in mango color. The men were casually dressed for a beach wedding. Mike had white slacks and a black Florida print shirt and the groomsmen were wearing white slacks with mango and black print shirts. The ring bearers also had matching Florida print shirts and beige slacks.
Marissa and I had been corresponding for months in preparing her perfect St. Pete Beach wedding ceremony. After so many months of online correspondence it was so nice to finally meet her. She wanted a sand ceremony and to have their two children participate in blending of the sands. They each had a different color and bottles were placed on white table under the arch.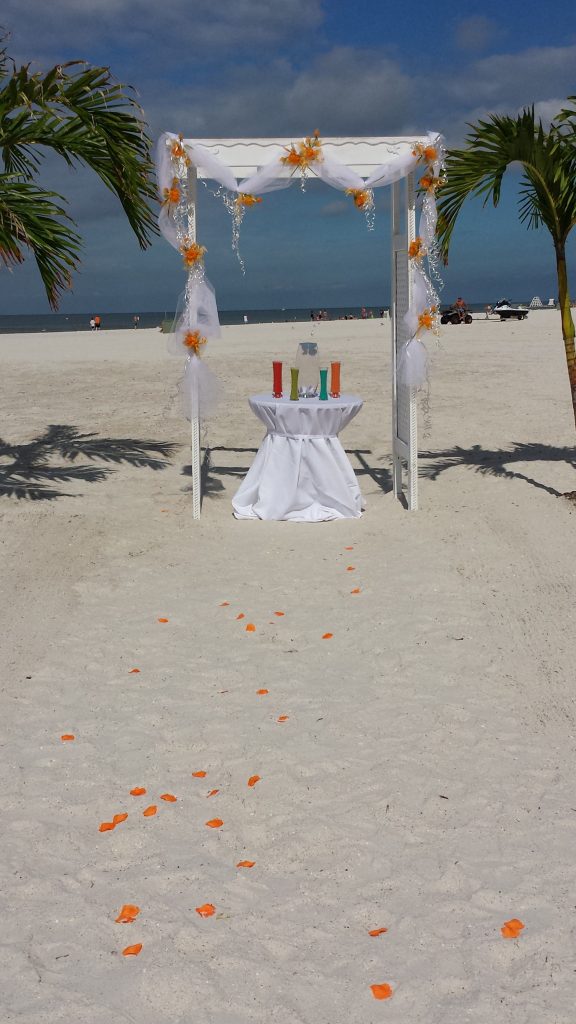 Her father would be giving her away. Marissa was very thorough and paid attention to all the details in her ceremony; and I could see she was with all her wedding preparations.
They were having a reception in the Presidential Ball Room at the Grand Plaza. The Ball Room is way up 20th floor overlooking the ocean. It's a gorgeous gorgeous view especially for a day time wedding.
Marissa sent me a message on Monday saying, "Thank you sooo much for your kind help. You were fantastic and a true professional."